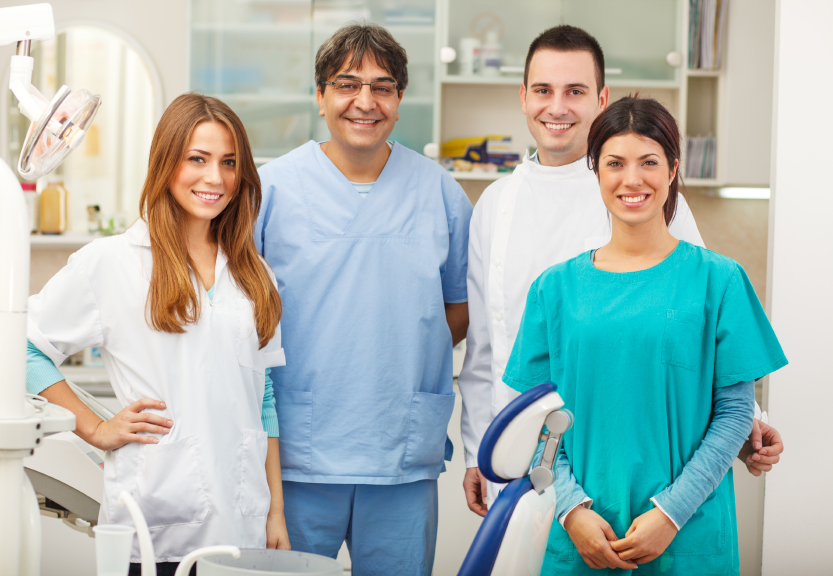 More and more these days, the dental office you go to may not be independently owned. While that's not an issue for some, others have expressed concerns that a dentist employed by a corporate chain might be subject to management's decisions for pricing and procedures.
How can you tell if your dentist is independent or is part of a chain?
Many chains advertise extensively, so their names may be recognizable to you. You might see a location in your town and several nearby.
If you're wondering if your dentist is independent and is the sole manager of their practice, the name of the business can sometimes be a clue. Look for a unique name, perhaps with the name of the dentist (or dentists) listed below the practice's name. It may, for example, specify the name of your city. In some cases, however, a corporate dental chain's name is not revealed. If this is a concern, you will want to ask the office staff if the practice is affiliated with or managed by a separate corporation.
You may also consider an online search: If your dental practice's name is associated with several offices or is listed in locations across the country, you're probably going to a corporate chain.
OPT-In Dental Advantage only recommends independent dentists who have agreed to a specific Code of Ethics, so that's a good place to start if you've moved to a new area and are looking for a dentist. It's also a good place to start if you'd like to change from a corporate dental office to a traditional independent practice.
Why does it matter?
We're used to buying many of our daily necessities, from shampoo to clothing to food, from corporate chains. But usually, if you're supporting a local small business, you'll receive a higher level of service. If there's a problem with your purchase, the owner will handle it graciously to ensure that you're a happy customer. Unfortunately, this kind of autonomy might be missing in branches of a corporate chain, which have to abide by corporate rules set by layers of management.
In the case of your clothing or toiletries, you may find that it's simply more convenient to buy them from corporate chains, which are easy to find in almost any community. After all, it can sometimes be hard to find local shops that actually sell everything your household needs.
But every community has at least one independent dentist, and most communities have several. And they're not selling the same brand of shampoo as the store down the street. Unlike dentists and dental care, those items are all the same. Instead, you're putting your health, your physical appearance and your overall well-being in their hands.
Patients first, or profits?
With independent dentists, the description says it all. Each is free to make decisions based on what the two of you feel is best for your care. There is no outside pressure to see a certain number of patients each day, and there's no suggesting a particular procedure solely for profitability.
While most dentists always try to provide proper care, it goes without saying that not all corporate dental chains operate the same, and not every independent dentist is going to be a good choice. It's for those reasons that wherever you seek dental care, you want to make sure you choose a dentist that puts patients before profits. If you choose to visit an OPT-In Dental Advantage member office, you can be absolutely assured that you'll have chosen a dentist that has agreed to provide only the care you need, and all the quality you deserve.
Quantity over quality
Some dental offices and corporate dental chains are known as "high-volume" dental practices that emphasize maximizing profits by seeing large numbers of patients. In these offices, it's more difficult to get the quality, personal time, and attention you deserve.
It's often easier for an independent dentist in a traditional dental practice to provide the time and care you genuinely need. The traditional private practice doesn't need to worry about outside influences from a corporation, or the demands of a "high volume" practice.
Continuity of care
With most private dental practices, you can see the same dentist every time you go. You'll get to know him or her, and they'll get to know you and your dental needs. They'll know if you're someone who gets especially nervous during procedures, and they'll be familiar with all the other important aspects of your dental well-being.
If you go to a dental office that's part of a corporate chain, however, you might see a different dentist each time. The dentist you saw last time may not even be with the chain any longer, since some chain-affiliated offices tend to have higher turnover rates.
A matter of trust
The news has been filled lately with stories about certain corporate dental offices billing outrageous amounts, and even doing unnecessary work to further increase their bottom line.  While this is not always the case, company executives are known to set revenue goals. Financial targets might filter their way to corporate managers overseeing local dental offices, even to the point of doing unnecessary procedures, as newspaper stories have told us.
OPT-In Dental Advantage can help you find an independent dentist in your area that specializes in your particular needs. When you choose an OPT-In office, your dentist is your dentist, and the office you visit—managed by your dentist—will do everything possible to make your visit a comfortable one.